Applying for a Mortgage in Tennessee
Johnson City TN Area Real Estate Areas
It is very important for Northeast Tennessee home buyers to be at least pre-qualified and preferably pre-approved by a bank or mortgage company prior to making an offer on a house or property. This makes any offer you write much stronger, particularly an offer that you want considered that is not a full price offer! This can be done fairly quickly with the use of computers by mortgage lenders and banks. You can even apply on-line to many lenders.
Your biggest challenge will be to choose the loan terms most favorable for your situation. If, for example, you anticipate living in your Northeast, Tennessee home for many years, the interest rate may be your main factor. If you expect to keep the house for only a short period of time, your up-front closing costs may be more important to you.
Ask the lender to give you a written pre-qualification or pre-approval letter.
Types of Mortgages
A wide selection of mortgages are available today ranging from 15, 20 and 30-year fixed rate mortgages, to Adjustable Rate Mortgages with various terms and conditions. With an adjustable-rate mortgage (ARM), the interest rate you pay is adjusted from time to time to keep it in line with changing market rates. This means as interest rates increase, so too your monthly mortgage payments may go up as well. On the other hand, when interest rates go down, your monthly mortgage payments may also go down.
With a fixed rate mortgage, regardless of the number of years you choose for that mortgage, the rate you pay for principal and interest combined will stay the same.
With all mortgages, things like taxes and insurance can actually change your monthly escrow payment each year, thereby adjusting your monthly payment, even though you may have selected a fixed-rate mortgage.
Check Your Credit Report
Before even beginning a search for a home, you should check your credit report to ensure that nothing appears on the report that:
Is NOT your debt, but may belong to someone with a similar name
There are no inaccuracies in your report.. eg. Loans that have been paid off but still appear as debts
You have no collections that have not been paid.
We have addresses and telephone #'s of the Credit Agencies that you will want to check.
Once you have received acceptance of your offer to purchase a home or property, you will need to immediately shop around for interest rates and closing costs. We keep a vendor list that will help you begin that search for the best loan. Or you may select a lender with whom you are familiar or at which you have a personal contact. If you obtained a pre-approval letter from a lender before you even began searching for a home, you will probably want to go back to that lender first.
Listed below is the basic information that most mortgage loan companies require for you to make loan application:
1 Social Security Numbers for all borrowers
2 Residence addresses for the past 2 years
3 Landlord address for last 2 year rentals and/or Mortgage Company name and account # covering the past 2 years.
4 Name and addresses for each employer for past 2 years along with W-2's for the past 2 years and your CURRENT pay-stub.
5 Names, addresses, account #'s and balances on all checking, savings and investment accounts, plus 3 months statements on each.
6 Names, addresses, account numbers, balances, and monthly payments on all open loans.
7 For self-employed borrowers: 2 years Tax Returns, plus all schedules and 1099's if you receive any payment that is considered non-employee type of pay.
8 Cash for a credit report and an appraisal.
9 VA loans only: Certificate of Eligibility and DD214.
Steps Your Lender Will Follow
In processing your loan, the lender will be primarily interested in two things:
the Northeast Tennessee real estate property you plan to buy (because it serves as collateral for the loan); and
your financial situation and your credit history (because they will determine your ability and your willingness to repay the loan).
The lender will request an appraisal of the property, require a copy of your credit report (and any co-borrowers), and verify the information in your loan application.
Getting the Property Appraised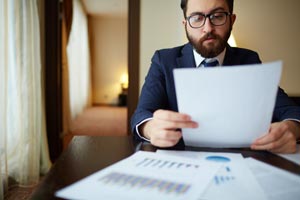 Your lender will arrange to have a professional appraiser estimate the market value of the property you are trying to buy. The lender is interested in the value of the property because it serves as collateral for the mortgage. The lender wants to make sure the value of your home or condo would support the amount of your mortgage.
The appraiser looks at what the home is worth today and how the neighborhood may affect future property value. The appraiser evaluates the property's age, structural soundness, and other physical characteristics, as well as location factors such as surrounding homes, access to transportation, and even how zoning and taxes may affect the property in the future. Your lender will not loan you more than a given percentage of the value of the property (called the "loan-to-value ratio"). Once completed, the appraiser will send appraisal forms directly to your lender.
Your Credit Report and Ability to Pay
Your lender will order a credit report on you and your co-borrower (even if that may have already been done to give you a pre-qualification or pre-approval letter) to verify information you've already supplied on your application and to see how you've handled past debt and credit accounts. A credit report supplied by a credit reporting agency will tell your lender:
how much you owe,
how often you borrow,
and whether you pay your bills on time.
All of these things can help your lender understand how well you might repay a mortgage loan.
Your lender may ask you for a written explanation of any problems appearing on your credit report.
This is why we recommend pulling your own credit report before you even start the home search process, so you'll have time to hopefully get any discrepancies cleared up before the actual lender pulls your credit report.
Even one late payment on just one account may require an explanation from you. Just respond promptly with a truthful statement about whatever may have caused the late payment. In fact, if you know you have a credit problem, it may be to your advantage to talk to a loan officer about it at the time of your initial loan interview — rather than wait until a credit report prompts your lender to ask you about the issue.
If you currently have a mortgage, the lender will send your current mortgage lender a Request for Mortgage History Rating. That rating will provide your lender with information on how you handled mortgage payments in the past. All the while, your lender will establish two things: Your "Loan-to-Value Ratio" and your "Debt-to-Income Ratio."  Usually, the amount of your loan can be no more than 95 percent of the appraised property value or 95 percent of the sales price of your home, whichever is less. Depending on the lender and the property, the value may not exceed 80 percent. So if the appraised value is less than the purchase price you have agreed upon, the amount of your mortgage may be smaller than you anticipated, and you will have to come up with a larger down payment or renegotiate with the seller the amount of money you will pay for.
Do you have enough cash for the down payment and for closing costs? Do you need a gift from a relative? Will you have a cushion left after your home purchase, or will you spend your last penny at closing? These are all things that need to be considered before applying for your mortgage.
Schedule Your

FREE

Consultation
If Your Mortgage Loan is Denied
Lenders are required to explain in writing their decision to deny credit and have 30 days from the submission of your completed application to tell you if and why your mortgage loan is not approved. A completed application includes your written application and all necessary requested information.
Understand Why Your Mortgage Loan Was Not Approved
Perhaps your mortgage loan application was rejected on the basis of a credit bureau report. Or perhaps the lender's qualifying formula shows you have insufficient income or too much debt to afford the house you are attempting to purchase.
In either of these cases, there are steps you can take. For instance, if you are refused credit because of a poor credit rating, you are entitled to a free copy of the report from the credit reporting agency. You can then challenge any errors and can also insist the credit reporting agency include your side of any unresolved credit disputes in its reports. If your credit history is not adequate, you should start repaying debts to get current. Once you have improved your credit profile, you may be in a position to begin house hunting and apply for a mortgage loan again.
Many lenders have a second level of review for denied loans, and you may wish to ask about this.
If you have any questions about mortgage loans please contact us today or give us a call at 423-283-4677! We'd love to hear from you!