Johnson City TN Real Estate For Sale
Housing and Area Information
Johnson City, TN is uniquely situated in Washington, Carter, and Sullivan counties in Northeast Tennessee and was was incorporated as a city in 1869. The estimated population of Johnson City was 66,391 as of the July 2017 Census. Johnson City is a combination of big-city amenities and small-town Southern charm, making it a destination for many. Here is a small sampling of some of the homes for sale in Johnson City, TN...
Search all Johnson City TN Homes for Sale Here
Johnson City features historical landmarks, museums, tributes to Appalachian culture, and local experts who interpret these stories for future generations. At the same time, Johnson City continues to innovate for the future as a world-class hub for outdoor recreation, a bustling college town, and a vibrant community full of Southern charm.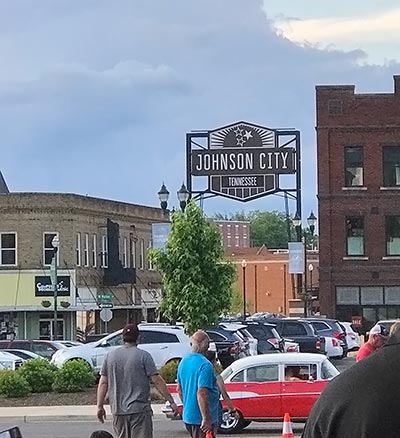 Johnson City was named one of the top 100 places to live by Livability.com in January 2018, and was named one of the top five (#4) retirement destinations in the country by Kiplinger in June 2016. Compared to the rest of the country, Johnson City's cost of living is 18.0% lower than the U.S. average. Johnson City jobs have increased by 0.4% over the past year. Future job growth over the next ten years is predicted to be 35.4%, which is higher than the US average of 33.5%.
Johnson City is somewhat of an economic hub largely thanks to East Tennessee State University and the medical Med-Tech corridor, anchored by the Johnson City Medical Center, Franklin Woods Community Hospital and affiliated facilities. Johnson City's museums and historical sites include the Hands On! Museum and the Tipton-Haynes State Historic Site, which hosts the annual Bluegrass and Sorghum Making Festival as well as other seasonal events. Other festivals include The Little Chicago Blues Festival, Blue Plum Festival, Umjoa Unity Festival, and the "First Friday" which is a monthly, arts and music festival held in Johnson City's downtown shopping district.
Both the City and County school systems have received state and national honors for excellence in the classroom. Significant capital investments have been made in order to renovate and construct new facilities and update the curricula. Several private and religious schools offer additional education options. East Tennessee State University, King College, Milligan College, Northeast State Community College, and Tusculum College offer higher learning opportunities. Several of the area's college and universities have been recognized for their excellence by national magazines suchj as Forbes.
Johnson City TN Real Estate
Johnson City homes for sale offers many options. Whether you're a first-time home buyer, or looking to move up to a luxury home, we can help you find what you're looking for. There is a wide variety of single-family homes, as well as townhomes and beautiful estate homes for sale in Johnson City. The median home cost in Johnson City is around $185,000. Home appreciation the last 10 years has been 16.1%. Home appreciation is up 5/2% in Johnson City over the past year.
With living costs well below national averages, it's no wonder that people of all ages are choosing to call Johnson City their home.
Some of the hottest neighborhood near Johnson City, TN are Wiltshire, Greenfield, Carroll Creek Estate, Biltmore Estates, Oakland Height. You may also be interested in homes for sale in neighboring cities, such as Gray, Jonesborough, Kingsport, Bristol and Elizabethton.
If you have any questions about living or relocating to Johnson City, please give us a call at 1-423-283-4677 or send us an email.