Elizabethton TN Real Estate for Sale
Housing and Area Information
Elizabethton, TN is a city in, and the county seat of Carter County, Tennessee. Elizabethton is the historical site of the first independent American government (known as the Watauga Association, created in 1772) located west of both the Eastern Continental Divide and the original Thirteen Colonies. The estimated population of Elizabethton was around 13,500 in 2019 based on the U.S. Census Bureau estimates.
From historical note in the Transylvania Purchase, Elizabethton was a muster site during the American Revolutionary war for two battles, (The Battle of Kings Mountain, which Sycamore Shoals, in Elizabethton was a muster point, and The Battle of Musgrave Mill), and its part in the "State of Franklin," North Carolina succession attempt, Elizabethton has a rich history. Surely, we can't leave out its beautiful Elizabethton Covered Bridge, which is a focal point of the historically registered downtown.
Check out a few of the Elizabethton homes for sale below:
Search all Elizabethton, TN Homes for Sale Here
Most of Elizabethton's downtown is listed on the National Register of Historic Places for its historical and architectural merits. The Elizabethton Historic District contains a variety of properties ranging in age from the late 18th century through the 1930s.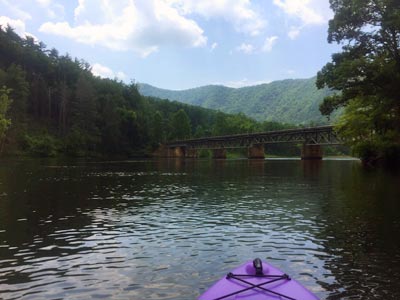 Known for being both a historic and antique shopping district, downtown Elizabethton presents family fun around every corner. Those with more of an explorer's mindset can take a leisurely stroll along the Walking Tour to find unique points of interest. Those more energetic and in need of a little more exercise can bike along the Tweetsie Trail. You will also find the diversity of downtown shops and eateries is unmatched. Downtown businesses support evening activities such as classic car shows, motorcycle rallies, karaoke, and open mic nights.
Downtown Elizabethton also sports the Doe River Covered Bridge built in 1882. It is believed to be the oldest such bridge in the state still used daily. Whether you are seeking a casual stroll, an opportunity to feed the ducks, or a picnic alongside the Doe River, the Doe River Covered Bridge is a must-see location when in downtown Elizabethton! The Annual Covered Bridge Celebration is in early June in Downtown Elizabethton.
There are a lot of parks in Elizabethton. Many young professionals and retirees live in Elizabethton and residents tend to be conservative, with a median household income of around $33,600. The public schools in Elizabethton are rated as above average.
Housing Market in Elizabethton TN
Housing in Elizabethton TN is one of the biggest factors contributing to the lower cost of living here. The cost of living indices are based on a US average of 100. An amount below 100 means Elizabethton is cheaper than the US average. A cost of living index above 100 means Elizabethton, Tennessee is more expensive. Elizabethton's cost of living is 78.1.
Some of the best neighborhoods in or around Elizabethton, Tennessee are Sycamore Shoals, East Side and Biltmore. East Side has a median listing price of around $154,900, making it the most expensive neighborhood. Biltmore is the most affordable neighborhood, with a median listing price of around $95,000. Sycamore Shoals played a pivotal role not only in Tennessee history but in the American Revolution. The site of the first permanent American settlement outside the 13 original colonies, Sycamore Shoals State Historic Area has been preserved as a Tennessee state park.
It's a good time to buy a home in Elizabethton. Home appreciation is up around 5% in the last 12 months, while the median home price in Elizabethton is around $116,000.
If you have any questions about living or relocating to Elizabethton , please give us a call at 1-423-283-4677 or send us an email. If you're in the market for Elizabethton TN real estate for sale sign up below for our FREE Email Updates below and be notified every time a new listing is added to the local MLS which fits your searching criteria.